​​​​​​​The Mushroom House, by any other name, is still just as striking. So whether you call it the Hobbit House, the Flintstone House, or the Smurf House (as many of the locals do) one thing is certain and it's that this Bethesda, Maryland home is unlike anything else you've ever seen. Although originally built in 1923, the house didn't adapt its legendary exterior until it was remodeled in 1973 by futuristic architect, Roy Mason, who fully realized the Mushroom House's J.K. Tolkien- potential with his one-of-a-kind design. Now, after being fully renovated by the current owner, Brian Vaughn, the 5,500 square foot home is back on the market for $1.5 million.

With six bedrooms, four baths, and an unforgettable architectural style, the quirkiness of the Mushroom House runs throughout the property. The whimsical archways, mushroom-like vaulted ceilings and of course the imaginative roofs, create a fantasy ambiance that assists the Mushroom House in making an impression onto all who see it.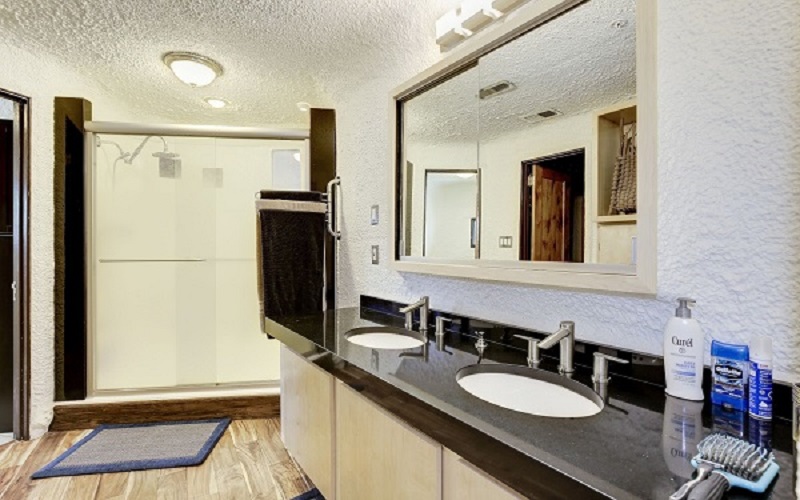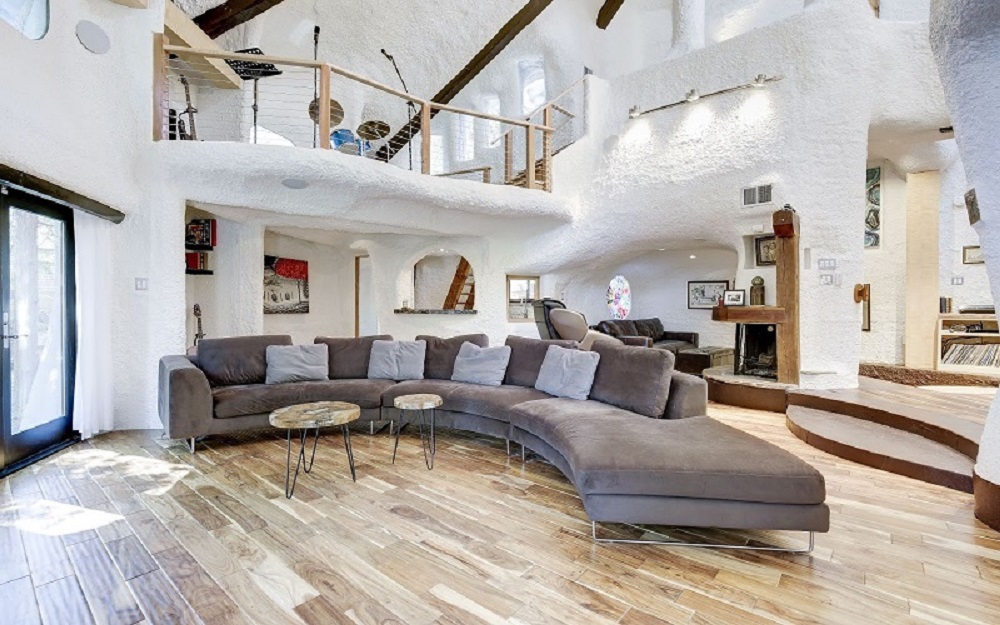 And, thanks to the recent remodel, the interior of the Mushroom House is just as fantastic as the outside. Having upgraded the kitchen from the previous 70s-era blue cabinetry, the remodeled kitchen is now complete with dark wood finishes, recessed lighting, a stone backsplash and stainless steel GM appliances, according to
Realtor
.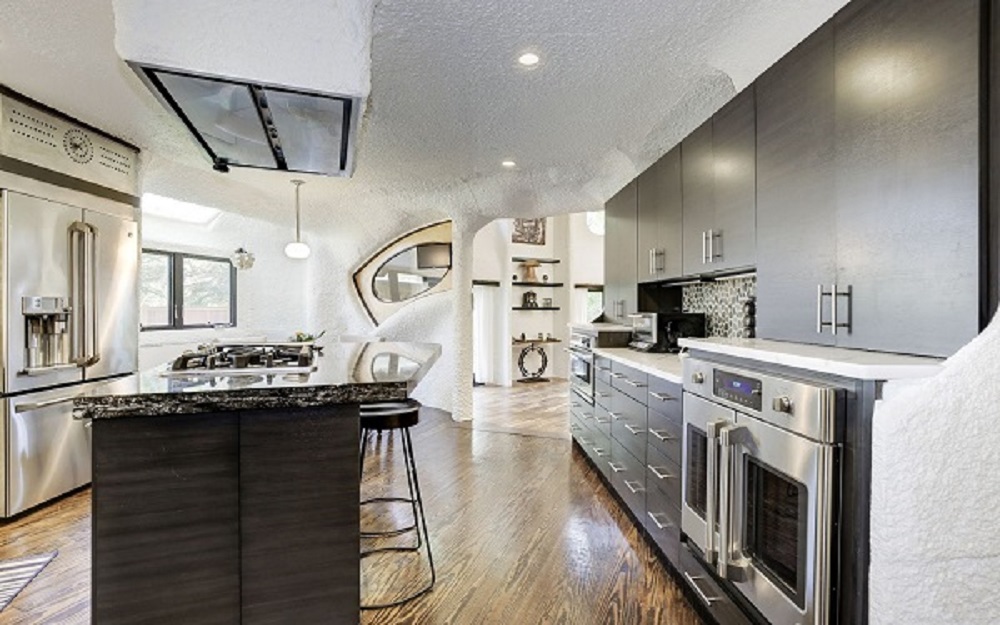 The basement has also been dug out and completely redone to include a bathroom and bedroom, and the separate one bedroom apartment has also been remodeled. The oversized, overhead projector screen in the great room additionally adds a modern and artistic touch, while further contributing to the practicality of the space.
But Vaughn's upgrades didn't stop at modernizations. The current owner also added his own custom and structural finishes, which emphasized the aesthetic of the home. After reinforcing the polyurethane shell that tops the house, Vaughn went on to add hand-scraped teak acacia flooring, striped hickory-grain stair risers, and custom blown glass lighting, according to the
Jill Schwartz Group.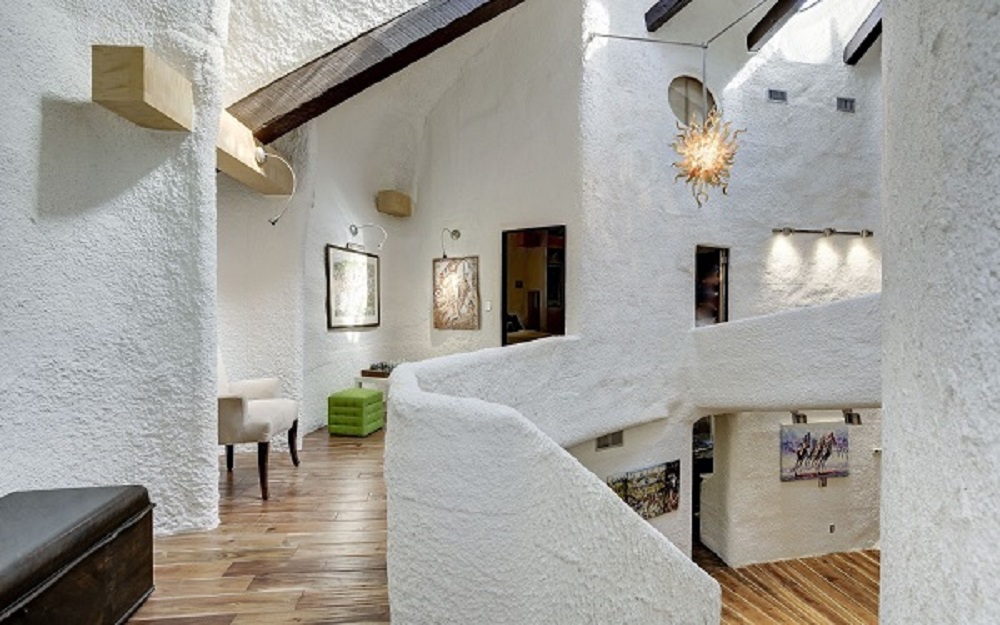 The architectural design of the interior of the Mushroom House plays on its whimsy theme in an elegant and modern way. The vibe of the interior combines the feel of Spanish-style stucco arches, with the modernity of an open floor plan, and the fantasy of eccentric design to create a beautiful and practical family home. A sunken den, a loft overlooking the open great room, recessed wall nooks, and a wet bar match the feel of the home with a sense of playfulness and utility, while still maximizing on the unique interior shapes and spaces.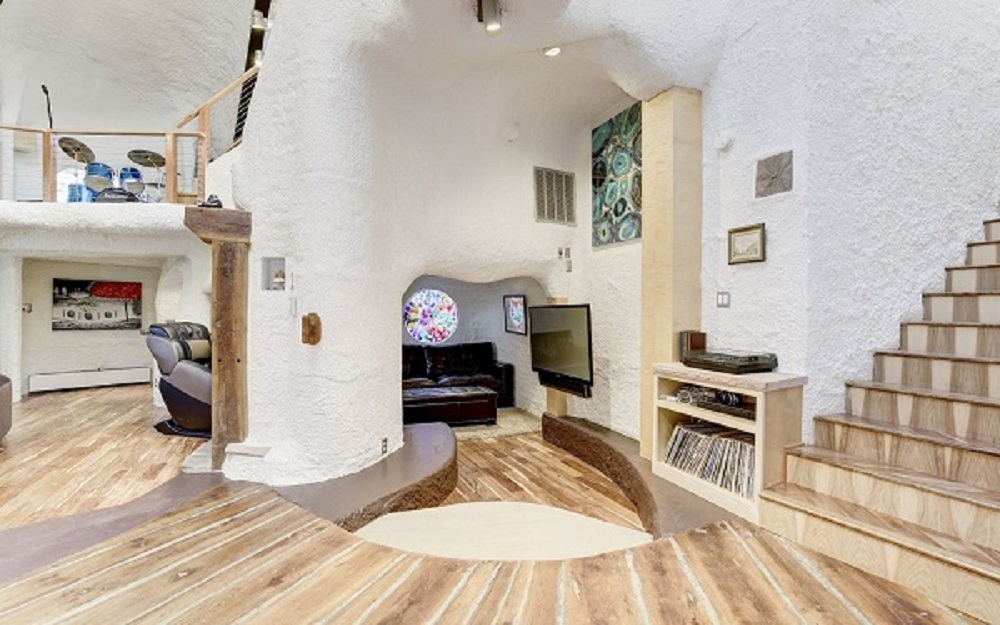 The original tiles, skylights, and stained glass, which may still be found in the home, along with the original 1973 exterior design, contribute to the fantasy and uniqueness of this property. Truly one-of-a-kind, the Mushroom House is the perfect home for a family looking to blend practicality with fantasy.