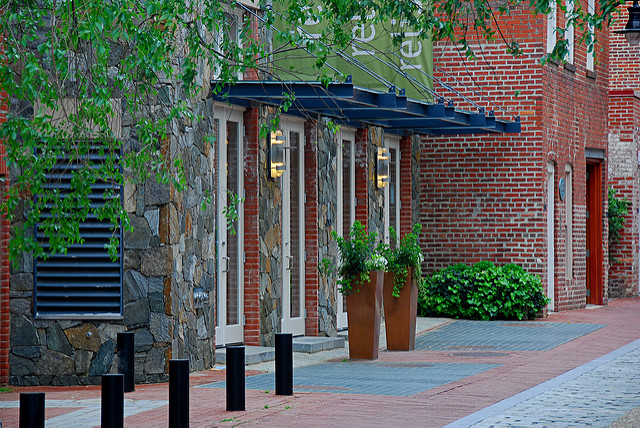 Relish D.C. on Cady's Alley in Georgetown.


There comes a time in everyone's life where he or she shows up to a cocktail party or holiday party wearing the exact same outfit as someone else. In a city like Washington, it sometimes seems like everyone is shopping at the same places. Your wardrobe should reflect who you are: distinctive, unique, and with an eye for elegance.


The next time you need a blazer or a dress for work or an event, go somewhere that's guaranteed to emphasize your discriminating taste. Washington is packed with fantastic boutiques that are the best-kept secrets of the city's most stylish women. The next time you're looking for a new outfit, be inspired by some of Washington's best luxury boutiques instead.


The tony neighborhood of Georgetown is home to a number of great boutiques that cater to those with an eye for fashion-forward and unique designer pieces. After brunch at the Viennese-inspired Leopold's Kafe, hop across Cady's Alley to Relish. Owner Nancy Pearlstein stocks a variety of perfect-for-Washington labels. In particular, explore the menswear-inspired Thom Browne, softly-tailored Lemaire, and the funky and contemporary stylings of Marni.


After stopping by Relish, head down M Street towards Hu's Shoes and Hu's Wear for more exclusive and distinguishing styles. With two locations that separate shoes from handbags and clothing, the boutiques' owner Marlene Hu Aldaba is the "trend spotter" of the District. Look to her boutiques for cool kid pieces from Saint Laurent, timeless pieces from The Row, and channel your inner Audrey Hepburn with shoes from Florentine brand Salvatore Ferragamo.


But if you don't consider yourself fashion forward, and instead want to be distinctive in the workplace while still appearing elegant, Nina (Nine-ah) McLemore's Chevy Chase flagship store is the place for you. Her brightly colored yet conservative workwear is worn by Washington luminaries like Janet Yellen, Hillary Clinton, and Elena Kagan. The exquisite fabrics and comfortable fits travel well and are authoritative in the office.


Sometimes, though, there's no denying that all you really need is a cozy men's sweater. To prepare for a wonderful weekend in, or if you're avoiding the cold outside, stop by the menswear shop MUTINY. They stock a number of soft wool cardigans and crewnecks that are a perfect compliment to your warm and wonderful home.