Architects find innovative ways to reuse common materials. 
Utilizing upcycled shipping containers, the sustainability minded are defining an interesting real estate trend . The massive containers often sit empty on docks around the world after being unloaded, thus creating yet more wasted material and wasted space. With the rise in popularity of these durable homes, comes the rise in competition for architects to flex their creativity and give prospective buyers truly unique properties. 



Situated just outside Phoenix is 2753 East South Mountain Avenue. This 2,969-square-foot shipping container home features three beds, four baths, and because of its 100 percent aluminum foil exterior, the sun reflects off the siding, effectively keeping the interior of the home cool. As the brainchild of engineer Jorge Salcedo and Columbian architect Gregorio Baquero, the dual-level home is complete with plenty of open space in the middle and a wall of floor-to-ceiling windows for plenty of natural light. It is currently on the market for $610,000.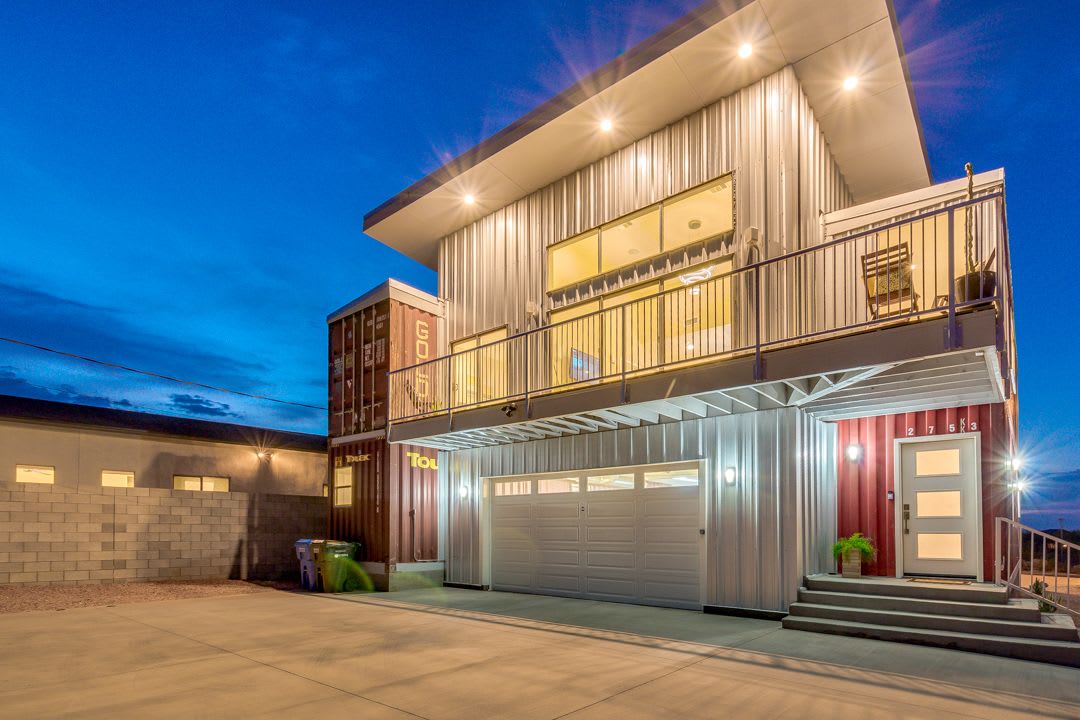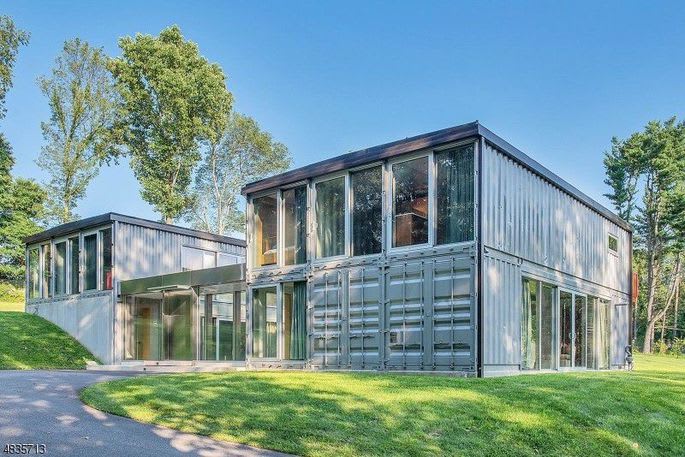 Another industrial chic property sporting more than a handful of shipping containers is on the market for $875,000 and hails from New Jersey. At four beds and 4,000-square-feet, architect Adam Kalkin brought this design marvel to life by utilizing upcycled hardwood floors, concrete, floor-to-ceiling windows on every side, large wooden beams, and showcased the original corrugated metal siding on the exterior. The result is a space that feels open, modern, and connected to the surrounding landscape.
Though not on the market,
this architectural masterpiece in Joshua Tree
is equivalent to a piece of art. London-based design firm Whitaker Studio was contracted by an LA film producer to construct a shipping container home unlike anything else on the market. Located on 90-acres in the SoCal desert, the 2,000-square-foot home mimics the appearance of cactus spikes by positioning each shipping container in a different direction, with some even arranged to look at the sky. The sharp egg white exterior and interior will be complemented with large windows and a myriad of geometrical angles inside the property. The sheer amount of ingenuity and craftsmanship that went into the creation of such a bespoke home is rather astounding. 
The ingenuity and creativity on display in the trend of re-using shipping containers has created a real estate niche that not only is sensitive to environmental issues, but has created some marvels.